Scooter Cannonball Eligibility
The Scooter Cannonball is an amateur event. Registration is open to all riders without pre-qualification. A limited number of registration slots are available each year and are sold on a first-come basis. Please familiarize yourself with the eligibility requirements below and the FAQs prior to registering for the upcoming event.
These guides and resources were created to help prospective riders, and interested parties establish a common understanding of the event's format. However, the official rules shall always take precedence.
Rider
An entrant consists of one specific scooter and one specific rider (you), together satisfying the eligibility requirements upon check-in at the starting line prior to the commencement of the event. To participate, you must pay the registration fee in full and complete all waivers, releases, and acknowledgements.
You must possess a valid driver's license with the appropriate endorsements as required by the issuing state. You cannot participate on a learner's permit. Current registration for the entrant scooter and proof of liability insurance from a United States or Canadian insurance underwriter, in the minimum amount of two-hundred-fifty thousand ($250,000 USD/CAD), is mandatory. A Personal Liability Policy or Personal Umbrella Policy may be used to supplement auto liability coverages in order to meet the minimum coverage amount. These documents will be reviewed during the technical inspection at check-in.
Pillion passengers are permitted as transport passengers only and may not operate the scooter or aid riders in completing their record keeping and documentation requirements.
Scooter
You are not committing to riding a specific scooter when you register for the event. However, the entrant scooter you show up with must meet the requirements and definitions below or qualify under an exemption.
Participation is limited to scooters with an engine displacement of less than 280cc. Reminder, it is common for modern scooter models to be branded as a "300," "250," or "150." The calculated (bore and stroke) displacement of the engine is used to determine eligibility and handicap. Example, a Vespa GTS Super 300 Sport qualifies with an actual engine displacement of 278.3cc.
Engine replacements are limited to those with cases used in a production motor scooter. You are permitted to run kits that increase engine displacement provided you declare these modifications and provide accurate, updated specifications during the technical inspection.
A scooter is defined as a two or three-wheeled vehicle that satisfies at least three of the following five conditions:
Unit construction of engine, transmission, and rear swingarm;
Wheels no larger than 10 inches;
Originally equipped with a step-through style frame;
Originally equipped with running boards or leg shield;
A single-cylinder engine design;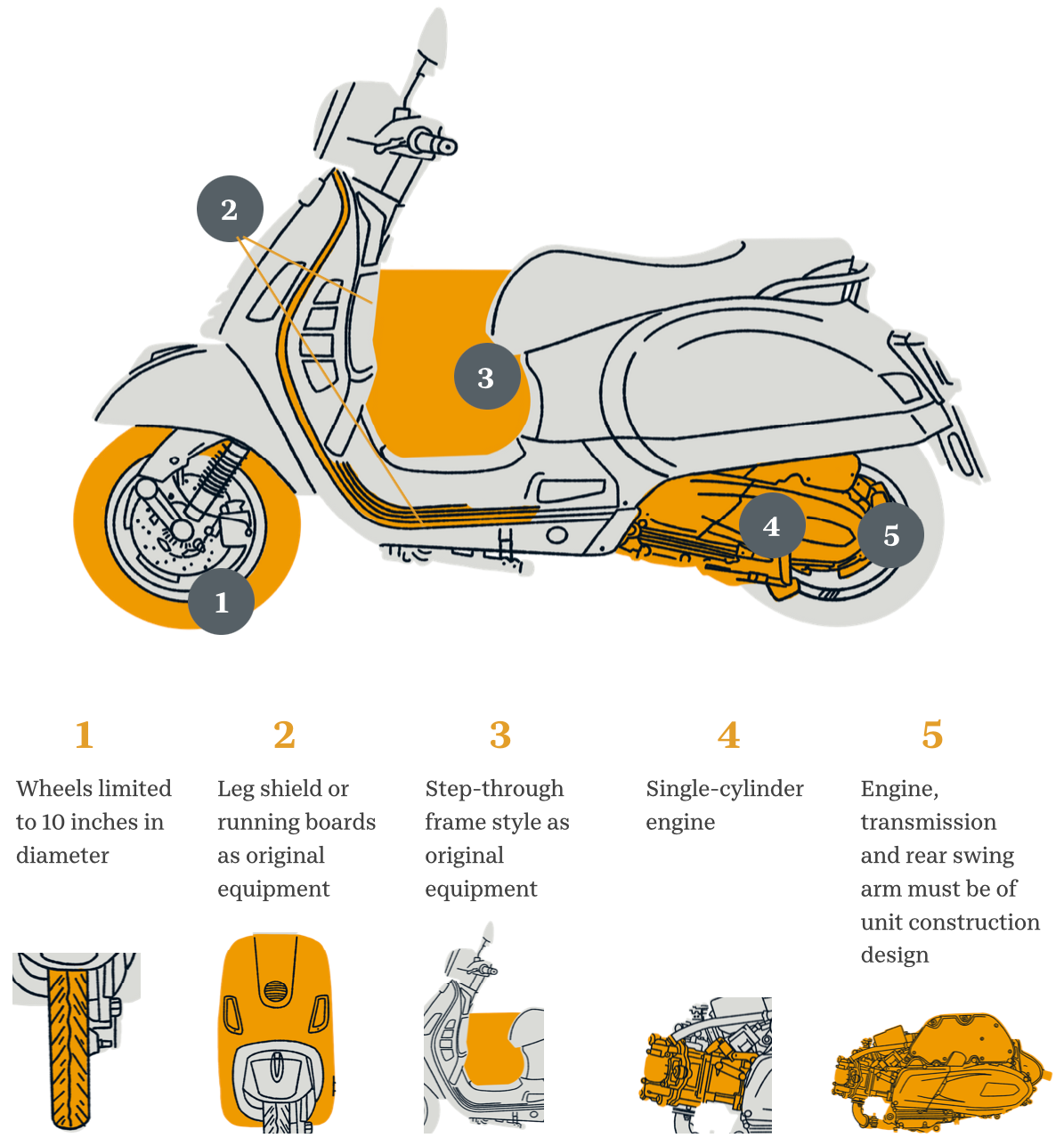 Scooter Exceptions
The following motorcycles have been granted exceptions and are permitted to participate in the 2023 Scooter Cannonball without scoring restrictions or limitations:
Honda Trail 125 ABS
1964-1979 Honda CT200 Trail 90
Street legal motorcycles with engine displacements less than 150cc that do not satisfy the above requirements and definitions of a scooter are permitted to participate in the 2023 Scooter Cannonball; however, they will be independently scored in their own category and class. This includes, but is not limited to the following makes and models:
Honda NAVI
Honda Monkey
Honda Grom
Handicap Calculator
---
Additional Questions?
If you have any questions concerning eligibility, please inquire for further clarification.
---