The Basics
The Scooter Cannonball is a touring rally for riders of small scooters crossing the United States in eight to 10 days. It takes place every two years, and the starting and ending locations change each time. The event began in 2004, and 2023 will be the tenth Cannonball.
During the event, riders typically travel 350-400 miles each day on back roads. Highways and interstates are avoided. The route they follow is known in advance; there are no secrets! It is defined by preselected landmarks we call "checkpoints." Riders must document their arrival at these checkpoints using the event's smartphone app and are awarded points. Some checkpoints have a timed scoring component while others have a fixed-point value. Finding them requires good navigation skills. The objective is to keep moving and not get lost, because while scooters and backroads are a great way to see America, it is not the most efficient means of crossing the country on a short schedule. Scooters can be slow on flat roads and even slower crossing mountains. They have small gas tanks and may require routine maintenance to complete the journey. Space for gear, tools, and parts are limited, so riders must plan and pack wisely.
At the end of the day's ride, everyone reconvenes at the designated hotel (finish line). Stories are shared, maintenance is done, drinks and meals are enjoyed, and friendships are made. The winner gets a bottle opener.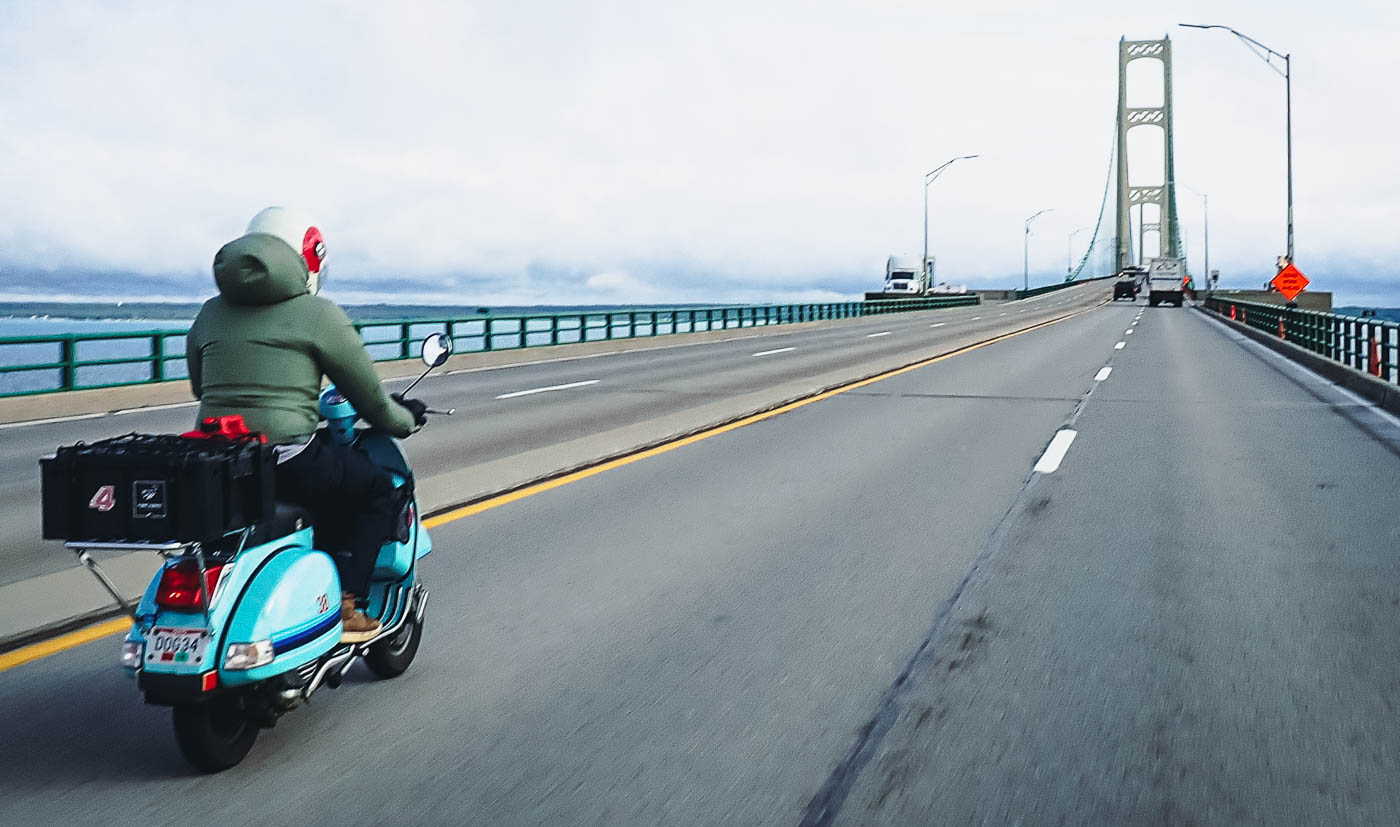 Participation
An entrant consists of one specific scooter and one specific rider, together satisfying the eligibility requirements for the rally. Substitution of scooter or rider after the start of the event will result in disqualification. The rider must be always the sole operator of the scooter. Pillion passengers are permitted but may not operate the scooter or aid the entrant rider in their record-keeping and documentation requirements for scoring purposes.
Participation is limited to scooters with an engine displacement of less than 280cc. A scooter is defined as a two or three-wheeled vehicle that satisfies the event's definition of a scooter. There are exceptions granted to the above criteria for motorcycles with engine displacements under 148cc. Please see the eligibility requirements for further guidance on scooter definitions and exceptions.
Who participates in this event?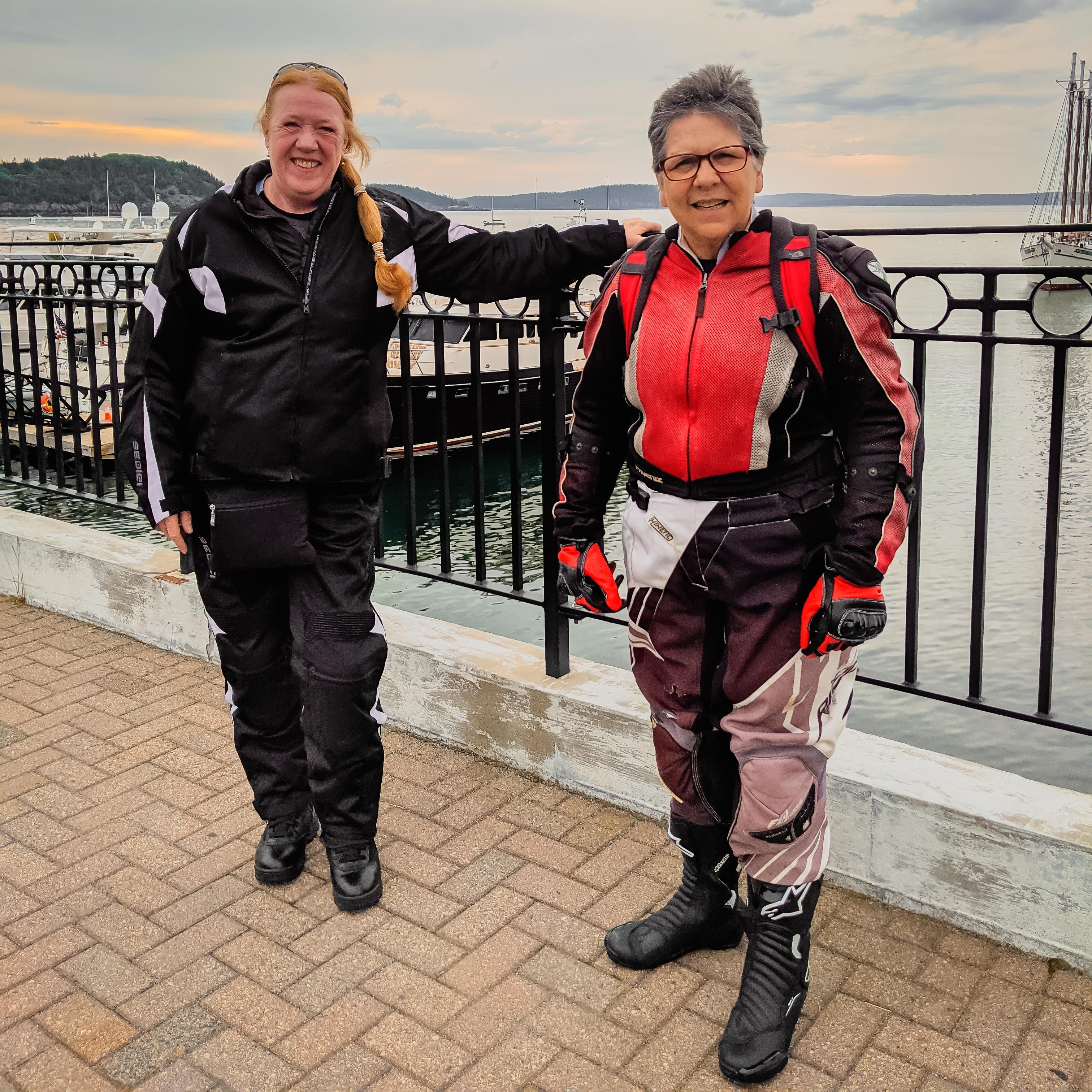 A lot of very interesting and often unusual people. In the 2021 Scooter Cannonball, 185 riders registered, 75 started, and 42 finished all 10 days and 4,500 miles of riding. The average rider was 50 years of age (ranging from 28 to 76 year olds), and there was an approximately 20%/80% female to male split. On average, only 2/3 of those who register actually make it to the starting line. Riders from all over the United States, Canada, and Europe have participated in the event.
This is not a group ride. Except on the first day (starting line), riders will depart from the same hotel each morning but on their own schedule. Scooters range from 50cc to 278cc and have different performance outputs. However, with so many riders traveling mostly on the same roads, you will pass (or be passed) by other riders throughout a typical day. You can ride with other riders, but you are scored individually - you cannot substitute or share scoring documentation with other riders.
Teams & Support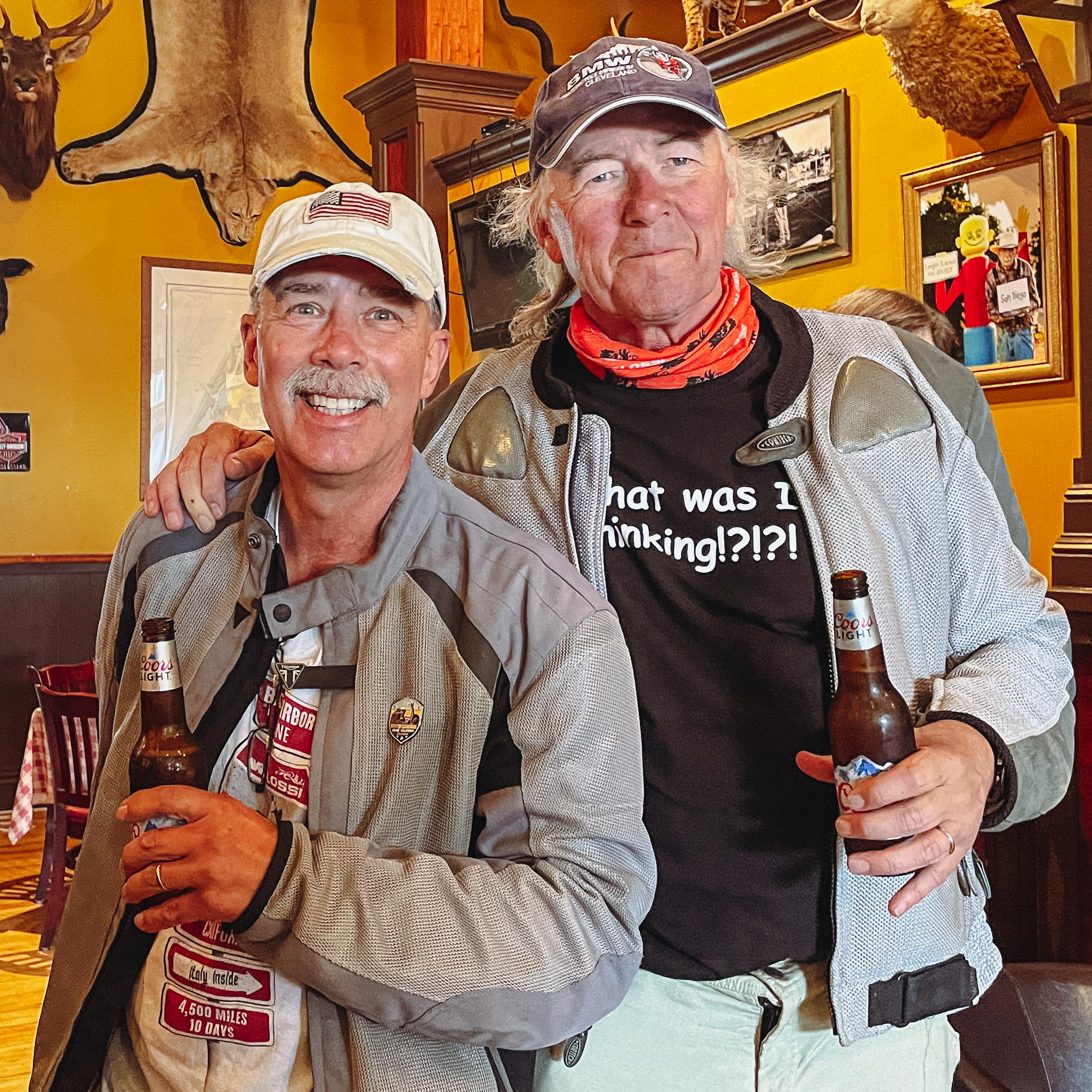 A lot of very interesting and often unusual people. In the 2021 Scooter Cannonball, 185 riders registered, 75 started, and 42 finished all 10 days and 4,500 miles of riding. The average rider was 50 years of age (ranging from 28 to 76 year olds), and there was an approximately 20%/80% female to male split. On average, only 2/3 of those who register actually make it to the starting line. Riders from all over the United States, Canada, and Europe have participated in the event.
The event provides a support vehicle option to participants that sweeps the daily route. The support vehicle carries limited spare parts and has a towing capacity for those with broken scooters.
Additionally, a few riders have a spouse, friends, or family traveling behind them in a pick-up truck or a vehicle with a trailer. It is common for these participants to sell space and support services to defray their operational costs.
---
Route & Scoring
The route is planned by the event's organizers and is preferred, but riders are not required to follow it. Each day's route has a total of five control checkpoints, including a starting control checkpoint, three interim control checkpoints, and a final finish control checkpoint. To be eligible to qualify for points, the rider must depart each day from the start control checkpoint, pass through all three control checkpoints, and arrive at the finish control checkpoint on the designated day in the rally. The control checkpoints together create a total of four route segments.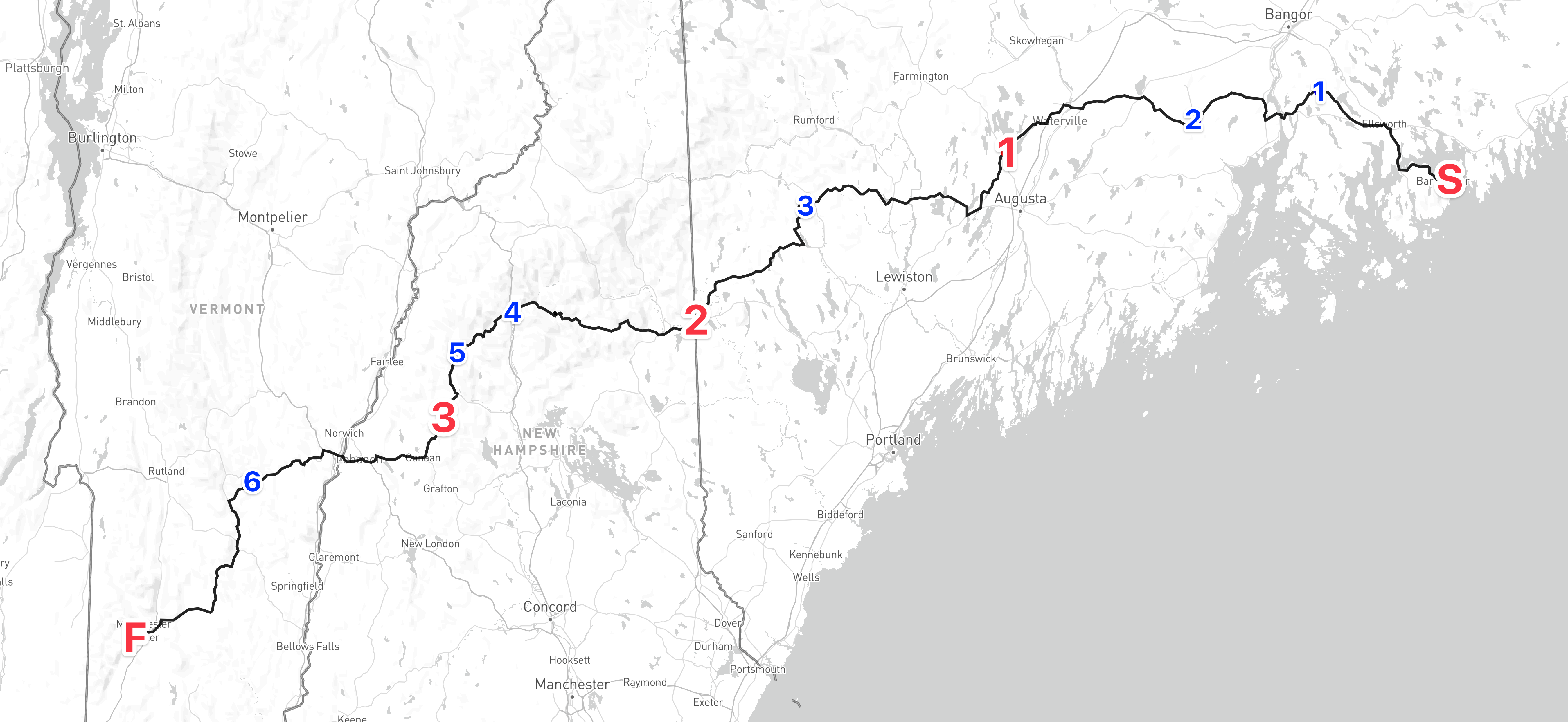 Points are awarded for the completion of each route segment. The event uses a mobile phone app as a means for riders to document their travels and submit their timecard and photographic evidence at the end of each day's ride. Riders earn points based on their ability to maintain a daily standard time or pace between each of the five control checkpoints. The rider closest to this pace/time for a segment gets 100% of the points, and everyone else gets points deducted for how far they are from the time/pace. Time of travel is adjusted by a handicap, which helps level the playing field among scooters. Each scooter is assigned a handicap, which allows more time for smaller scooters and less time for larger scooters with a speed advantage. Handicap values are based on scooter size, age, and modifications. If a rider is late, points are taken off, depending on the number of minutes the rider is overdue.
Handicap Calculator
Bonus Checkpoints
Bonus checkpoint locations were introduced to the event in 2018 as another means to keep riders on the same route and create additional navigational challenges. Bonus locations have a fixed-point value and must be claimed before the rider arrives at that day's finish checkpoint. The rider must score points on every single segment to be eligible to claim bonus checkpoints for that day.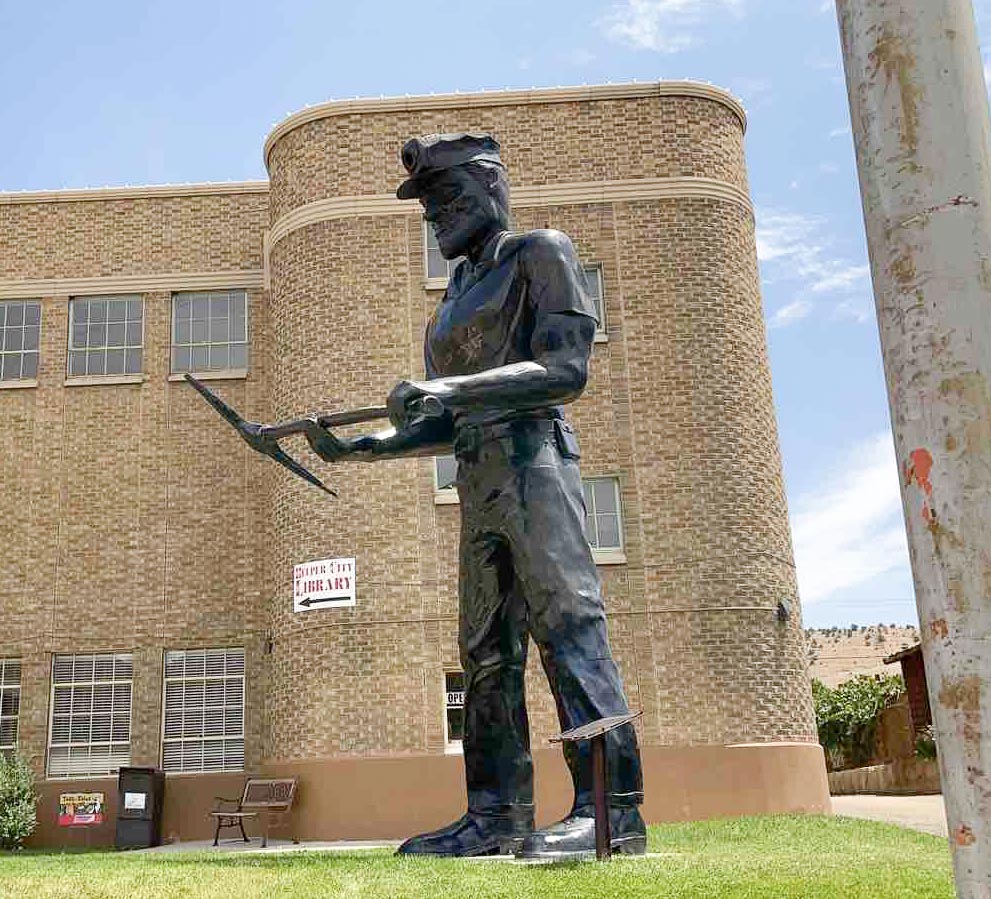 Navigation?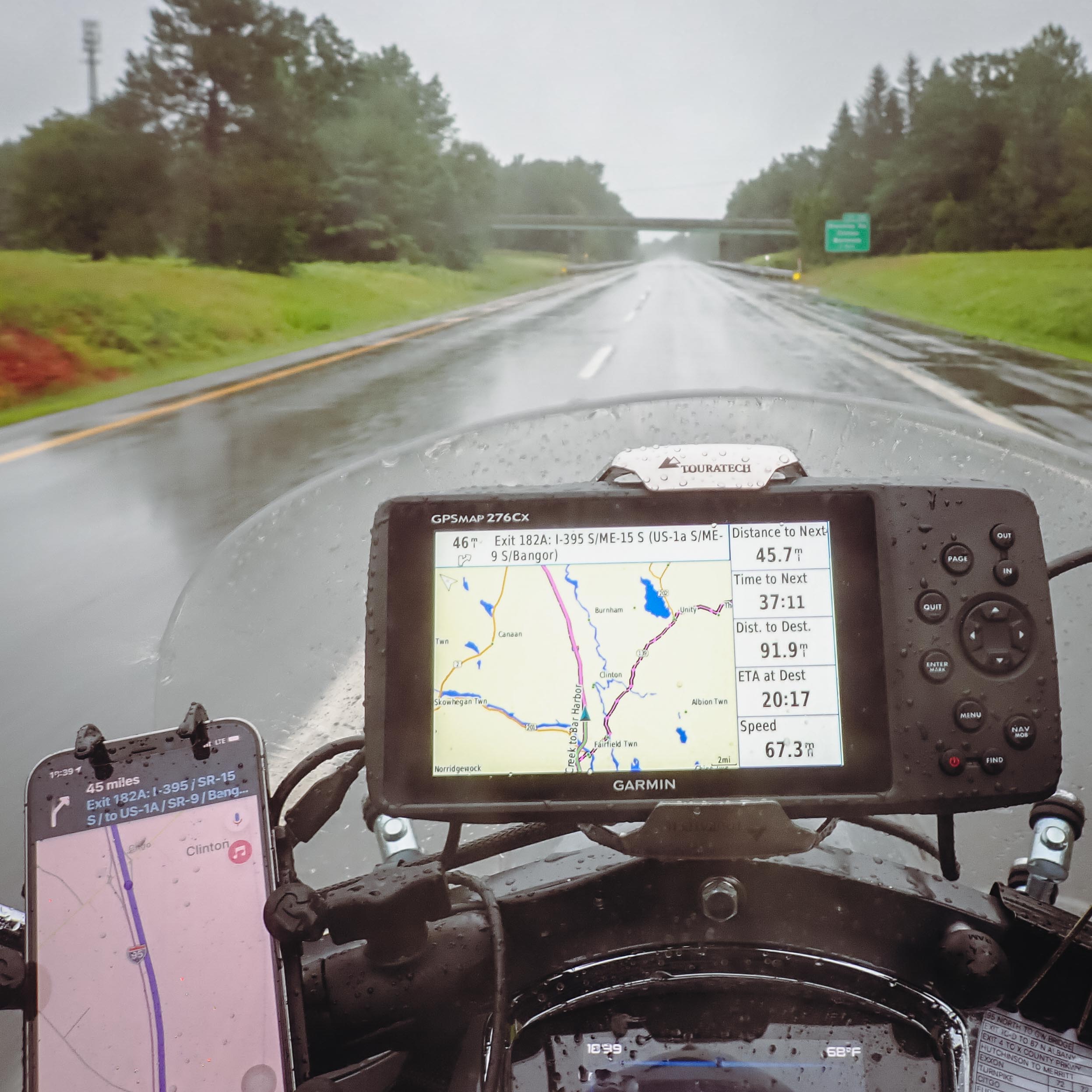 Riders are responsible for their own navigation planning. The event provides an Excel file of checkpoint locations, longitude, and latitude, along with a GPX file that can be used to program GPS devices. Ultimately, the roads riders decide to take to arrive at these checkpoints are entirely up to them. A rider's ability to navigate between checkpoints efficiently is critical to earning points in this event. Navigation directions provided by the event are advisory only. Most riders use a GPS device mounted to their scooter, others use their smartphones, and some use paper maps. The choice is entirely yours.
Unpaved Road Surfaces
Every Scooter Cannonball route since 2008 has included either optional or unavoidable unpaved roads. The 2018 and 2021 events included, by design, an unusually high number of unpaved road miles. The 2023 Scooter Cannonball route will include known or planned unpaved surface segments on several of its early days. An effort has been made by event organizers and planners to ensure checkpoints and bonus checkpoint locations are placed in locations that can be reached by paved surfaces. Segments with known unpaved surfaces will be highlighted in the official route packet.
Rider Names & Numbers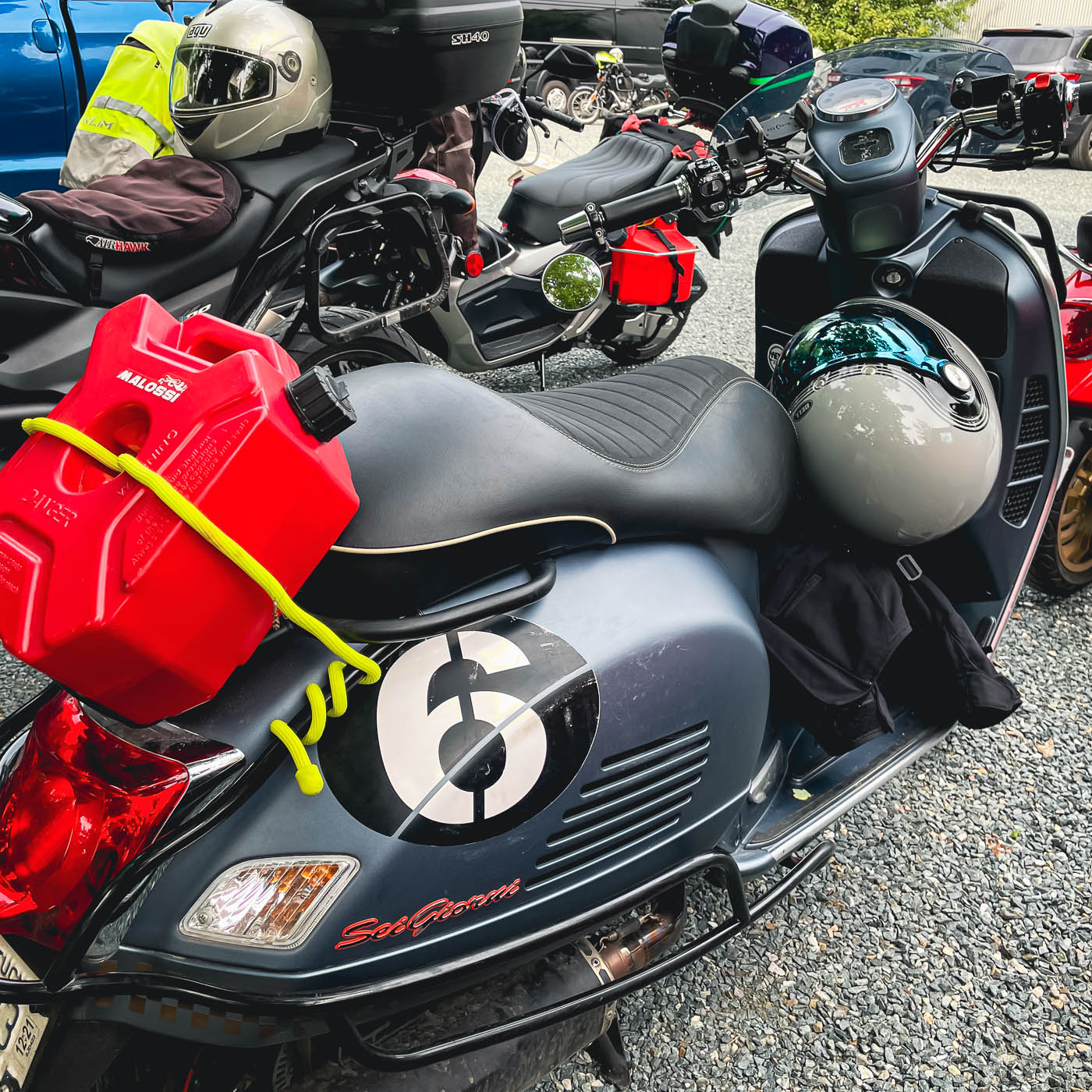 Throughout the history of this event, riders have ridden under monikers, or nicknames, with an assigned or chosen rider number. Typically, the rider's leaderboard name coincides with their username on the Rider's Forum or sometimes a license plate tag. This is how they will be identified on the leaderboard and in many ways known throughout the event. Choose wisely!
Riders may choose an unclaimed rider number between 1 and 200 when registering. When registration opens, riders who rode in the prior events will have priority claim to their previously assigned number when registering for the upcoming event. Eventually, numbers held for returning riders, if not claimed, will be released prior to the start of the upcoming event. Riders may trade numbers with another ride or select an alternative unclaimed number through the registered rider portal. Rider numbers will be finalized upon check-in at the starting line and may not be changed thereafter.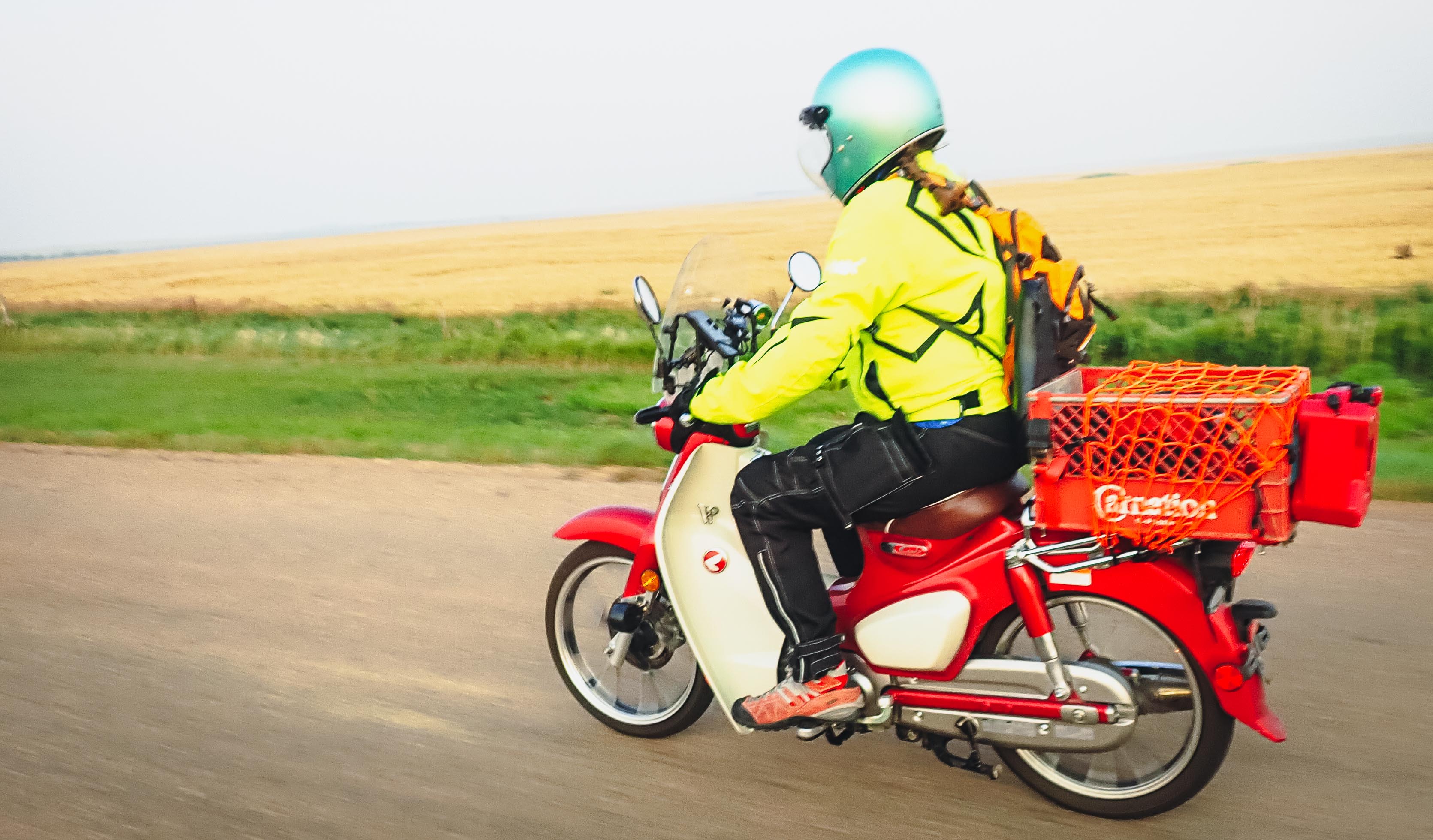 How do you win the Scooter Cannonball?
It's not a race, speed, nor endurance competition. Winning requires navigational accuracy, avoiding mechanical breakdowns, accurate fuel planning, and traveling efficiently to almost 100 checkpoints across America's back roads. Winning requires perfect planning and focused execution to achieve eight perfect days of riding.
In its history, the event has never awarded finishers of any position or status cash or monetary prizes. Winners and participants are entitled to the proverbial bragging rights. The event does, however, award medals or similar swag items to finishing participants. The event allows riders to receive sponsorships so long as the rider is not incentivized monetarily or otherwise by sponsors to finish or win the event.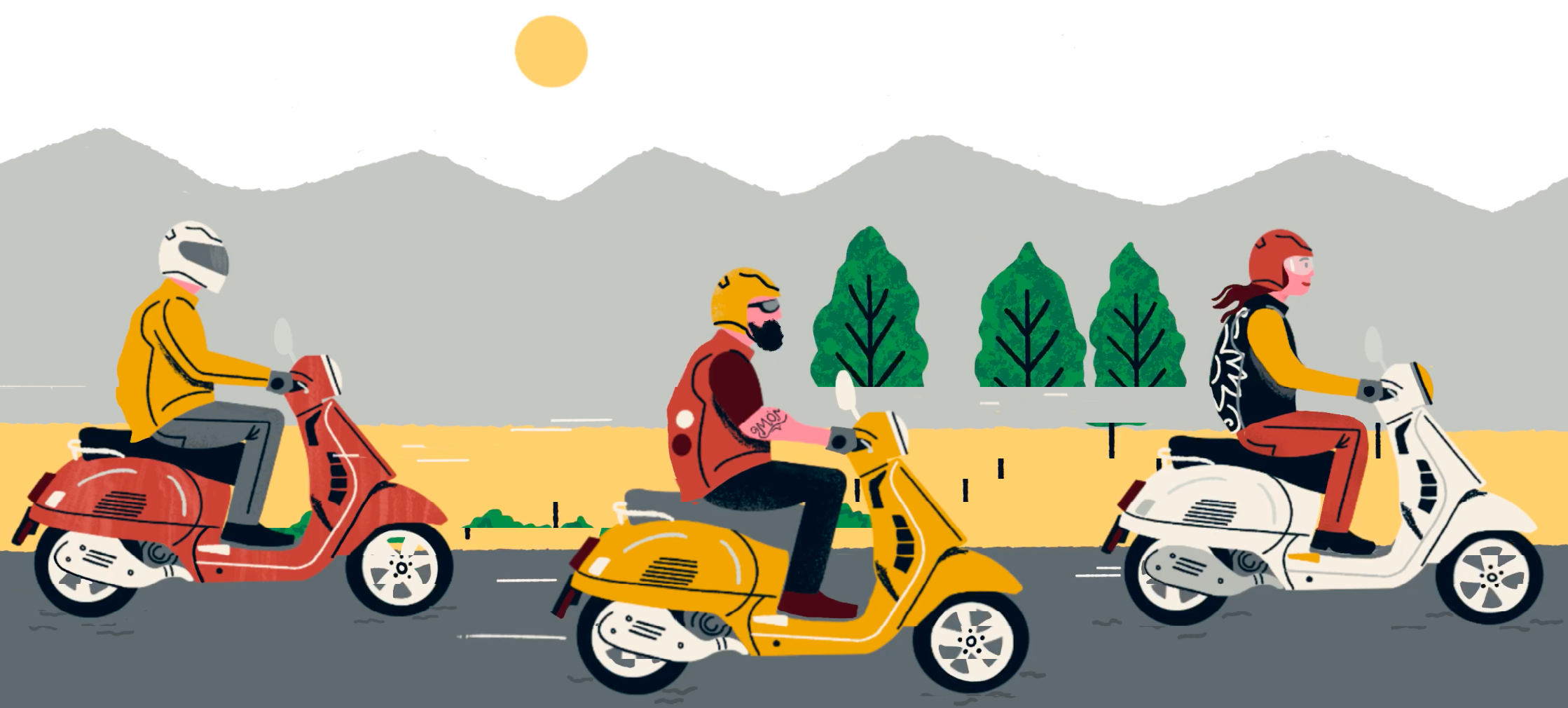 ---
What to Expect
What to expect at the 2023 starting line?
The 2023 Scooter Cannonball is scheduled to begin Sunday, June 18, 2023, at 6:45 a.m. PDT, at Calafia Beach Park in San Clemente, California. Riders and spectators will gather at the starting line location around 6:00 a.m., a group photo will be taken at 6:30 a.m., and riders start their clocks and depart shortly thereafter. Most riders will have left the starting line by 7:00 a.m.
On "Day Zero," Saturday, June 17, 2023, there will be a full day of rider check-in, technical inspection, safety meetings, and support truck loading at a designated location near the starting line in San Clemente. Both rider and scooter will need to be present and complete their paperwork and tech inspections at this event to be eligible to participate in the event.
Social events are planned for Friday, June 16th, and Saturday, June 17th, to meet other riders. There will not, however, be a sit-down banquet with planned speeches or announcements.
What happens at the final finish line?
The 2023 Scooter Cannonball is scheduled to conclude Sunday, June 25, 2023, on Hilton Head Island, South Carolina. Typically, local spectators and attending friends and family gather at the finish line in the late afternoon to cheer and welcome arriving riders. Riders complete their final day's scorecard, secure their scooter and personal property, and return to greet fellow riders. A happy hour and dinner event follows later in the evening, concluding with brief awards and recognitions.
The event will post more detailed guidance about the specific location and times for the finish line festivities closer to the start of the event. Every effort is made to keep the finish line, final hotel, and happy hour/dinner events within walking distance of each other.
What happens at the overnight hotels in between?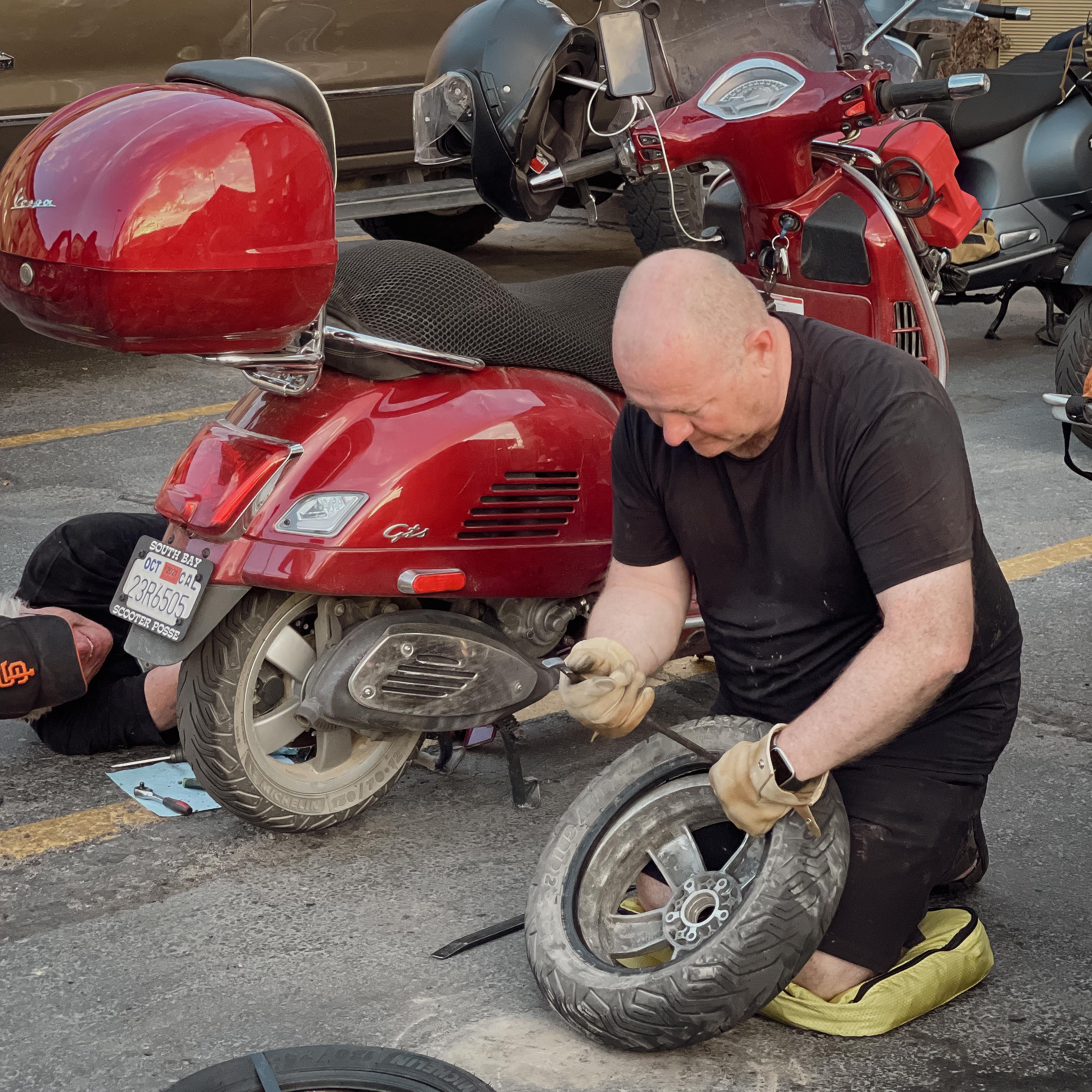 Typically, riders begin arriving late afternoon at the designated finish line location. The finish line is the final control checkpoint for that day's ride and is located at the primary or official host hotel in the overnight city. Upon arrival, riders take their final check-in photo, secure their bike and property, and check-in to the hotel.
Assuming favorable weather, the event will have a tent and scorekeeper table set up in the parking lot of the hotel. Riders will need to briefly meet with the scorekeeper to review their scorecard for the day's ride. Once accepted by the scorekeeper, the rider's scorecard for that day is locked to prevent further modification. The scorekeeper table is operated by event staff and remains open until approximately 9:00 p.m. local time. In the event of inclement weather, the scorekeeper's table may be set up inside the lobby area of the finish line hotel.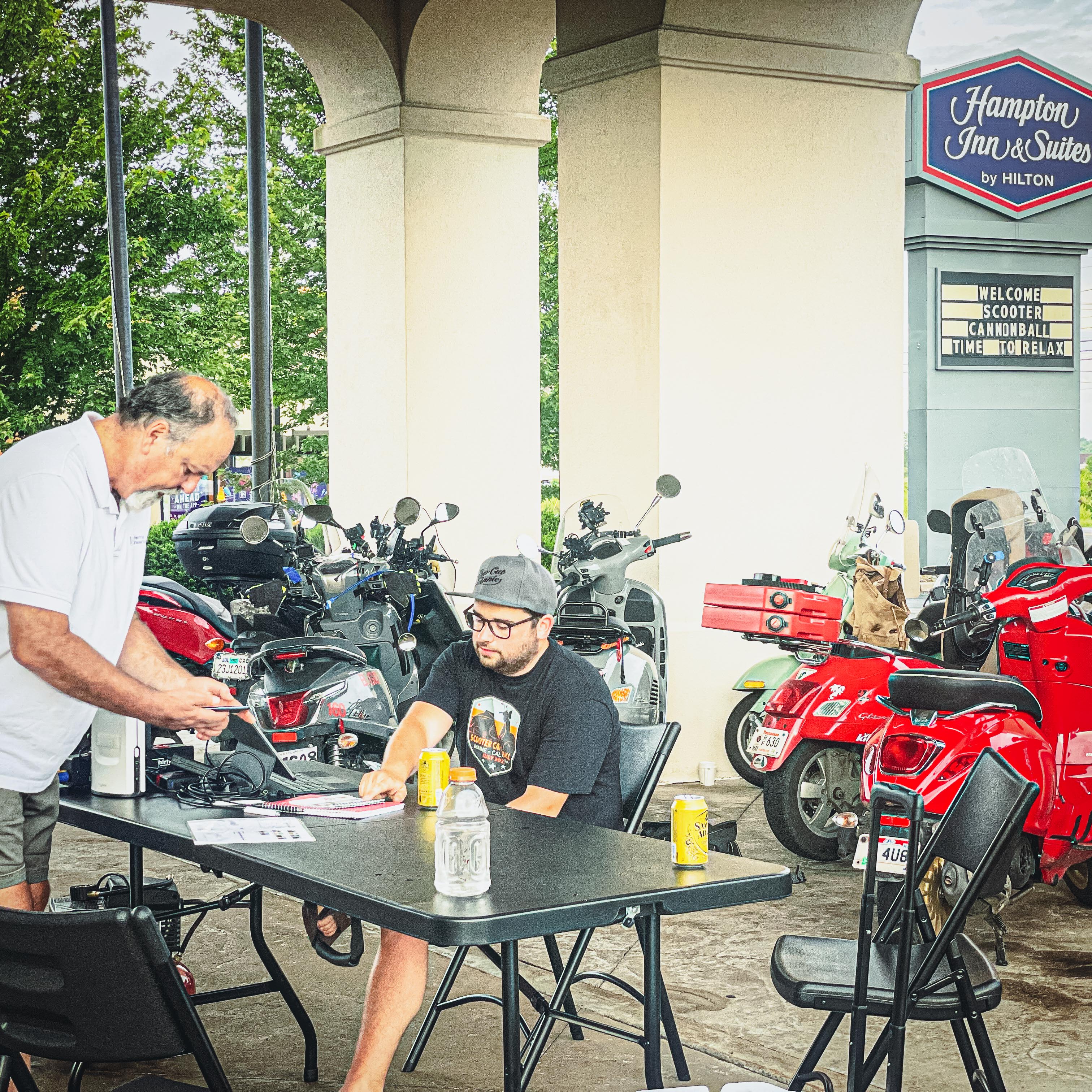 Under normal circumstances, the event does not formally organize dinner or social events at the overnight locations. However, in the past, local power sport dealerships, food trucks, and other local businesses have hosted riders.
Scooter maintenance is very common at the overnight hotel parking lot. The event provides water/refreshments, an air compressor, portal power generator, and a hitch mount-style tire changing apparatus for shared community use. Wrenches, sockets, hand tools, and specialty tools are solely the rider's responsibility to carry or source.
Most riders depart the overnight hotel within an hour or two after sunrise. Riders are strongly encouraged to start the next day's ride earlier rather than later to remain ahead of support vehicles in the event they experience a breakdown. The event does its overnight stays in smaller towns and communities, and it is not uncommon to encounter limited evening business hours to source parts, services, and meals.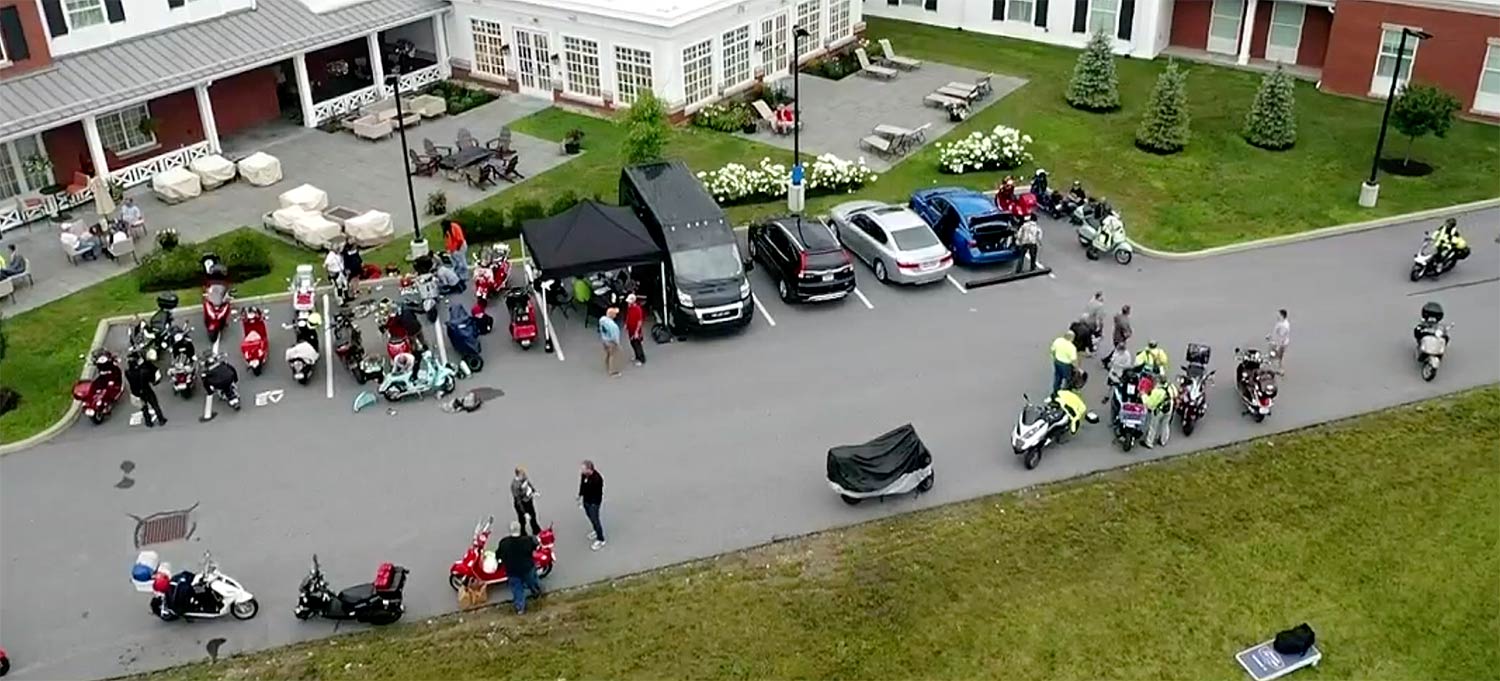 What must riders do at checkpoint locations?
Control and Bonus Checkpoint locations are not staffed or manned by the event. The event uses a mobile phone app to document your arrival at the location. These locations should offer an area to safely pull off roadside so the rider can quickly complete the check-in process. Riders are encouraged to carry and use a point-in-shoot style camera to take a backup photograph in the event they lose or damage their mobile phone device during the ride.
It is not necessary for riders to park or dismount their scooter at any checkpoint location. Most riders can complete the check-in requirements in less than a minute. The official rules offer riders guidance on how to handle situations where a checkpoint cannot be reached or documented.
Occasionally, riders are greeted at checkpoint locations by local spectators. If you are interested in manning a checkpoint, please inquire with the event for further information.
What happens if I break down?
Most riders carry a reasonable inventory of spare parts on their scooter or in a trailing support vehicle for things they can repair roadside. Typically, these spares include transmission belts, tire plugs and patches, oil and filters, spark plugs, fuses, and similar consumables.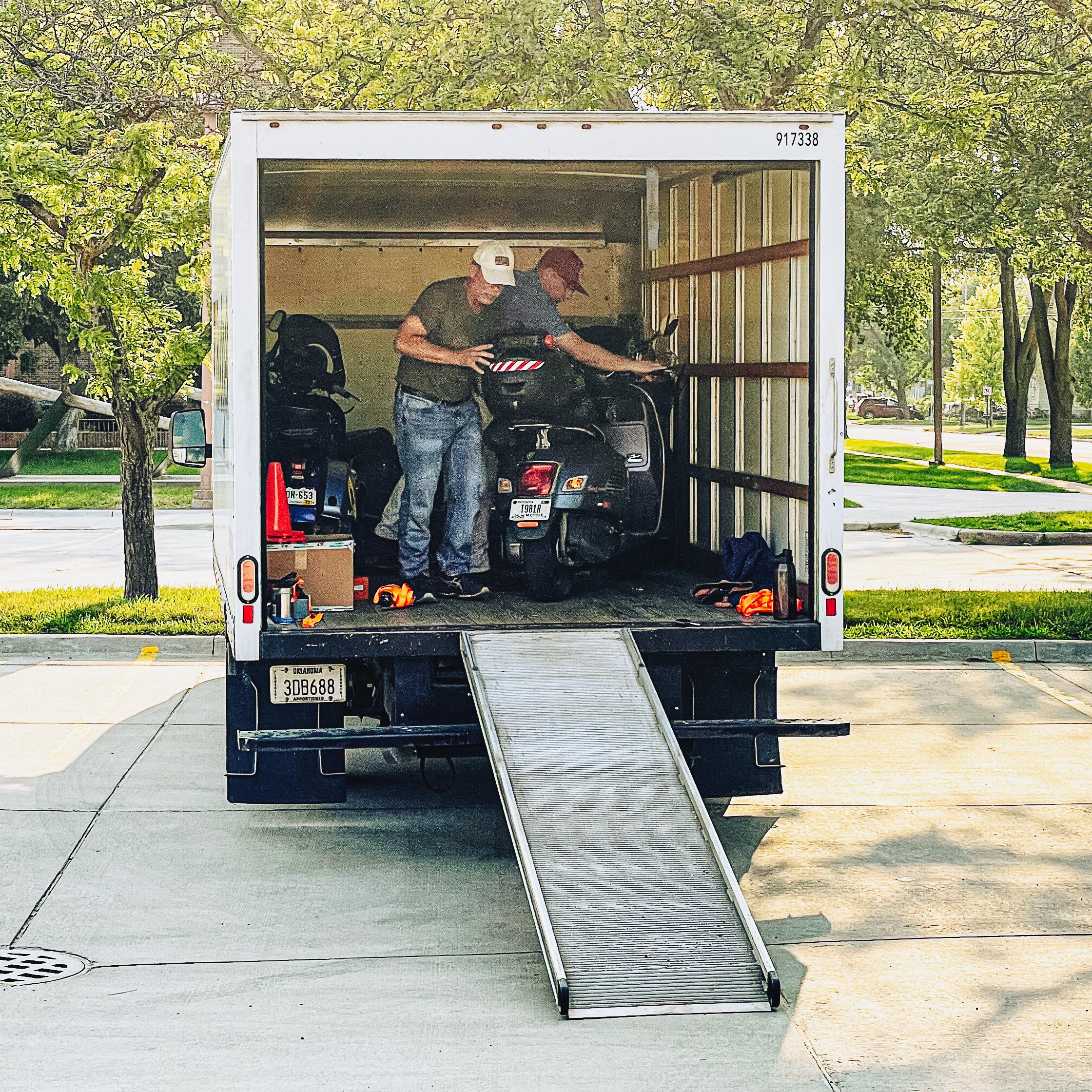 The event offers a support truck option that riders can reserve space on. The truck sweeps the route, carries limited spare parts, and has towing or hauling capacity for broken scooters and space available to transport riders. Also, our partnership with Motoshippers.com includes a breakdown option where your scooter can be retrieved from any overnight hotel location along the route and transported to your home for a flat fee.
Many riders have participated without a trailing support vehicle while others have organized their own support individually or collectively. These arrangements are worked out in the Rider's Forum.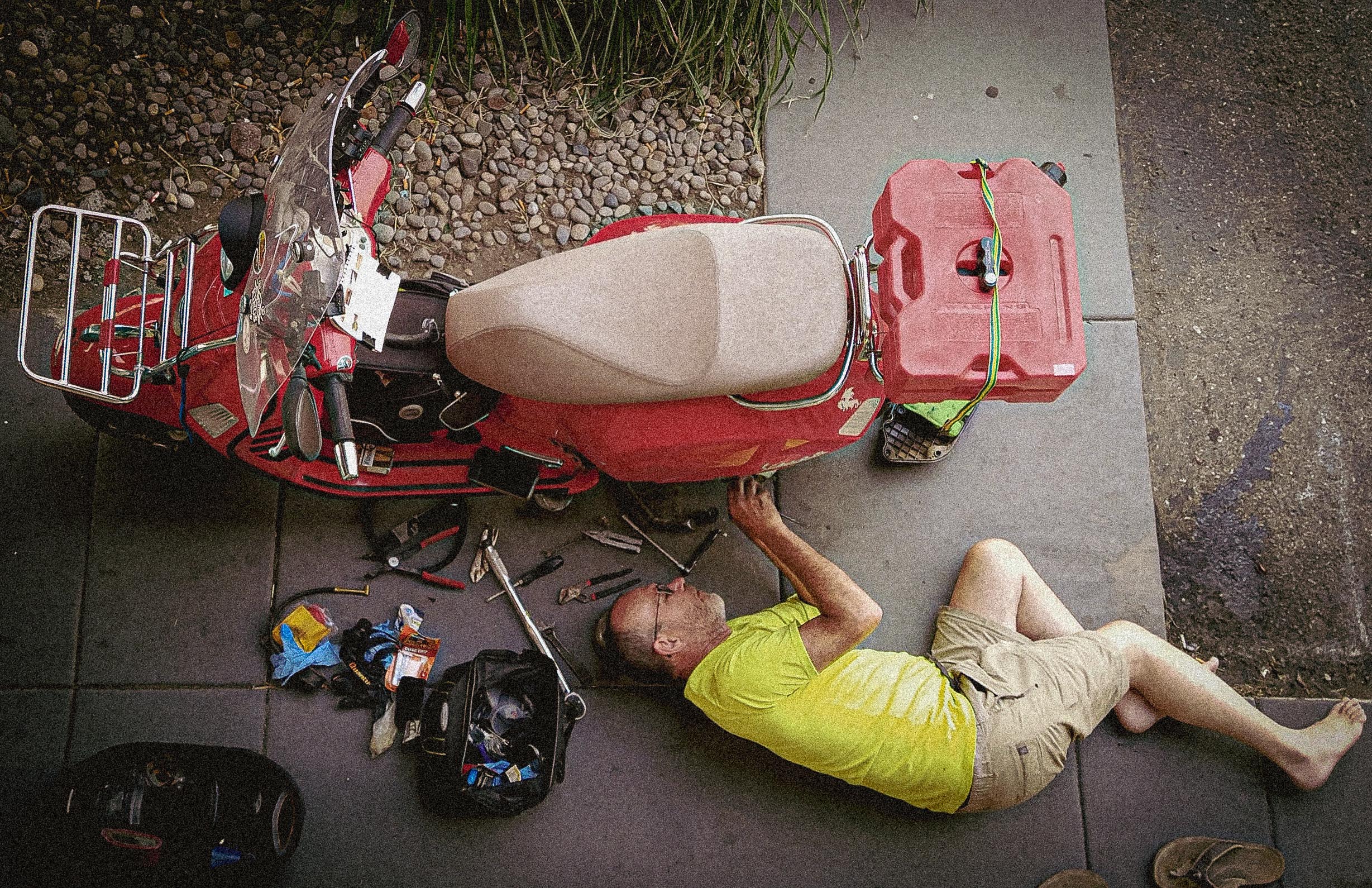 How are hotels booked?
All the hotels for the overnight locations are planned and booked in advance. The list of "official" hotels is provided at registration. Riders are solely responsible for booking their own accommodations. The event has coordinated with the overnight hotels to offer group rates, where possible, and while rooms remain available. Riders are not required to stay at the official hotels but are strongly encouraged to consider those locations. If you're having mechanical difficulties or need assistance with maintenance, it may be your best interest to be with the larger group.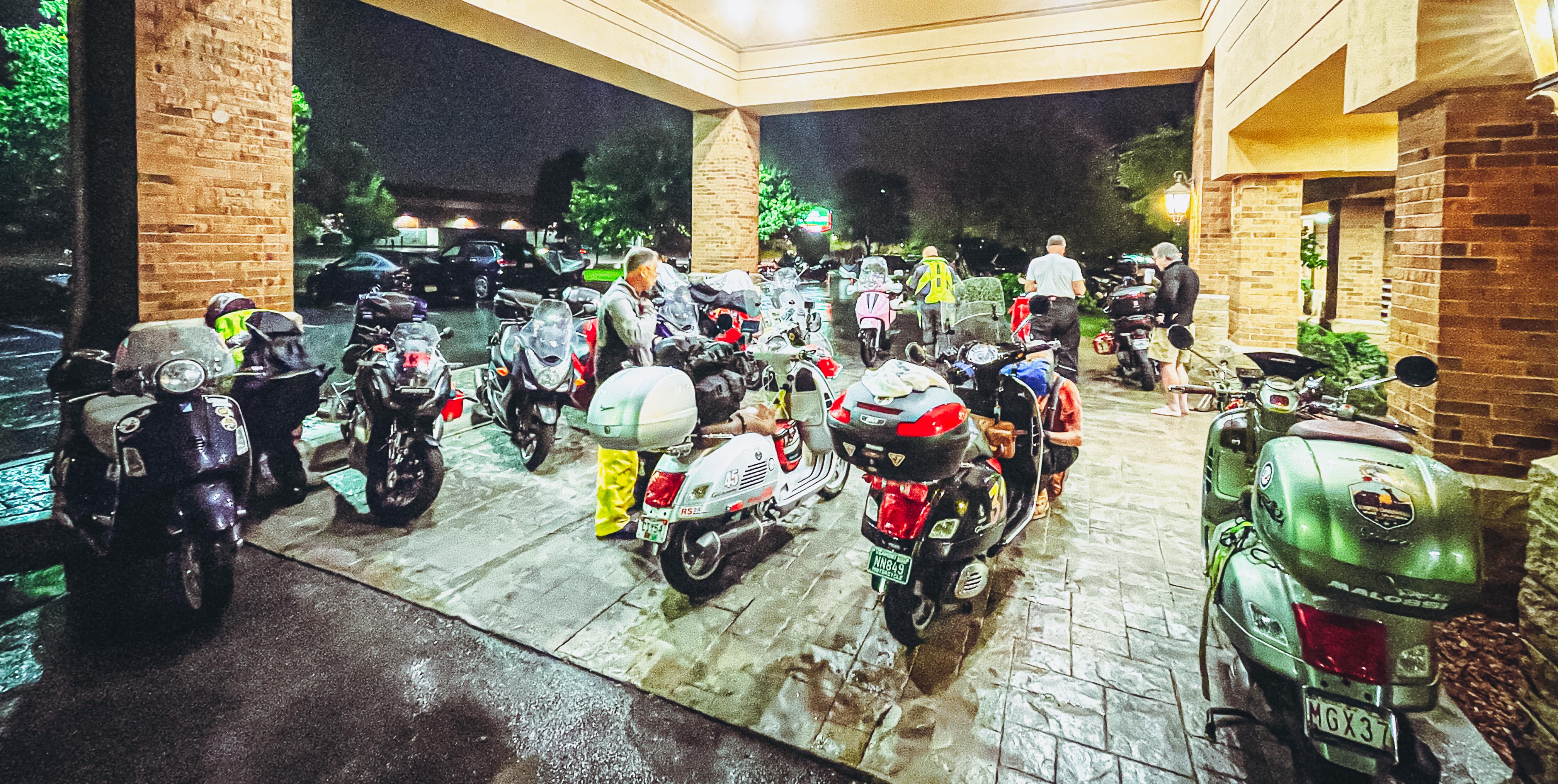 What is this going to cost me?
It really depends on personal circumstances, preferences, and logistics. A rider with a working scooter (which they plan to ship in only one direction) as well as appropriate riding gear should expect to spend $3,000 to $5,000 (USD) to participate. Here is an example of a $5,000 working budget for an 8-day Scooter Cannonball:
Fuel: $200
Hotels: $1,500 (10 nights, single occupancy, ½ w/roommate)
Meals: $650 (10 Days)
Parks & Tolls: $50
Riding Gear Upgrades: $400
Tires, Spares, Consumables: $500
Shipping Scooter: $1,400
Airfare Home: $300
Many have spent more money, and a select few have done it for less!
How do riders get their scooter to or from the start/finish?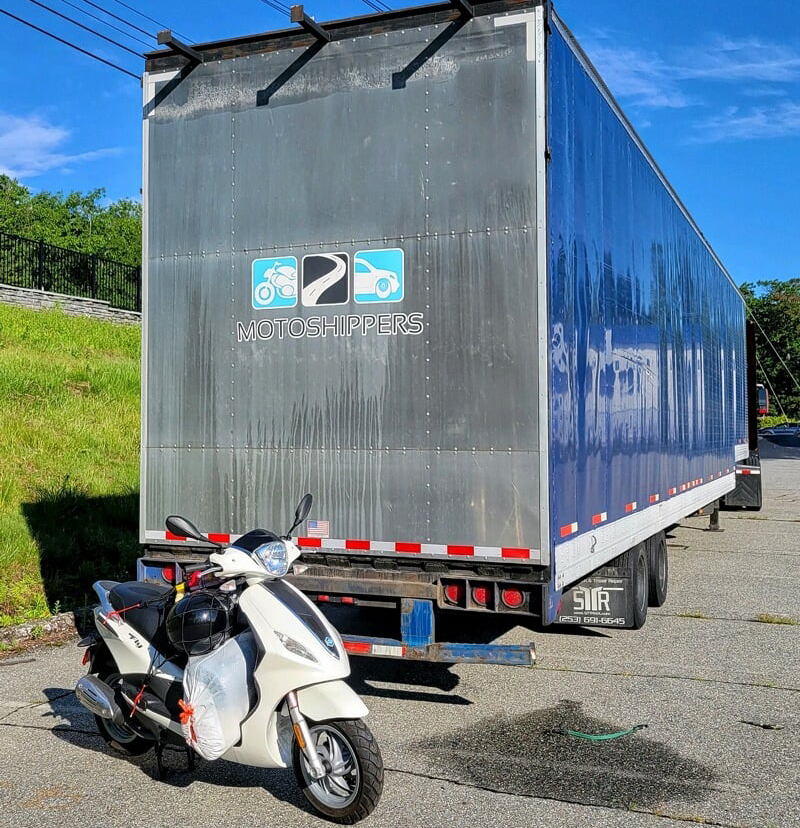 Depending on circumstances and their geographical location, many riders will ride their scooter either to the starting line or home from the finish line. Some will make a complete loop. However, most will ship their scooters using commercial services or private carriers or by partnering with other participants. The event has partnered with Motoshippers.Com, a point-to-point shipping service specializing in the transportation of motorcycles. Motoshippers offers special pricing for Scooter Cannonball's participants.
Registration Fees
Registration fees are non-refundable, and registrations may not be transferred. If you registered for a prior Scooter Cannonball and were unable to participate for any reason, there is no credit available toward future registrations. You should assume this policy will remain in effect for future events in the event you must withdraw. You will receive a printed and bound official scorecard and route booklet, stickers, pins, and patch packet upon check-in at the starting line. Extra sets of these items can be purchased and shipped to you in advance, while supplies last.
Support Truck Fees & Reservations
The event provides support truck vehicles and personnel who travel the official course/route carrying a limited inventory of rider-supplied spare parts. The truck is also able to transport inoperable scooters and their riders (if space is available) to the upcoming overnight hotel. Reservations are sold in advance of the event on a limited, space-available basis. Purchasing a support truck reservation makes you eligible for towing/hauling services and offers you storage space for spare parts. Spare part inventory is limited to pre-mounted spare tires and parts for repairs that can be made roadside but are generally too large to carry on the scooter. Reservations are non-refundable but may be transferred.